Income and Estate Tax Services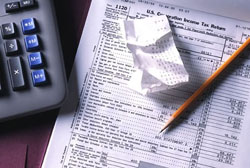 We offer a full range of tax planning, preparation and consulting services.
Our professional staff of CPA's and CFP's have many years of business and life experience advising individuals, families, professionals and business owners.
Tax Preparation
Our professional staff prepares federal and all state tax returns, for individuals, trusts, estates, professional firms, businesses and non-profit organizations. We also advise our clients on tax saving strategies to lower the tax burden.
Initial Consultation
We do not charge a fee for our initial consultation. This provides you the opportunity to determine if there is a good fit working with our firm. After this consultation we will be glad to give you a good faith cost estimate for the agreed upon services and then send you our Engagement Letter. Once we have all your information the turnaround time may take up to two weeks. We accept payment by check or credit card using the Pay Option link on our webpage.
How to Schedule an Appointment
To schedule an appointment just call our office and speak with Kristin or Chantelle 609-291-8363. During covid-19 for your protection and ours all appointments will be by phone or zoom. You may drop off your tax information at our office during business hours 9-5pm M-F, send by secure mail or upload via our Secure Client Portal on this webpage.
Tax Planning
We continuously monitor and stay abreast of federal and state tax law changes so that we can properly advise you. We are also able to advise you when life changes occur such as; retirement, relocation to another state, starting a business, marriage, divorce or the loss of a loved one.
IRS and State Representation
If your returns are audited or examined for compliance we can represent you before the IRS as well as the state.
Accounting Support for Professionals & Business Owners
We can provide accounting support or refer you to a competent bookkeeper for the more tedious tasks. This allows you to do what you do best ...serve you !