Income and Estate Tax Planning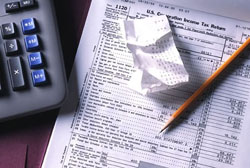 FREEDOM, offers a full range of tax planning and consulting services.
We have many years of business and life experience advising individuals, families, professionals and business owners.
Tax Planning
We consult with individuals, trusts, estates, professional firms, and businesses on tax matters and help them identify and implement tax saving strategies.
Initial Consultation
We do not charge a fee for our initial consultation. This provides you the opportunity to determine if there is a good fit working with our firm. After this consultation we will be glad to give you a good faith cost estimate for the agreed upon services and then send you our Engagement Letter.
How to Schedule an Appointment
To schedule an appointment just call our office and speak with Chantelle 609-291-8363 or email chantelle@ffadvisors.com. If you wish to send us confidential information and statement we recommend you upload them via our Secure Client Portal on this webpage.
We continuously monitor and stay abreast of federal and state tax law changes so that we can properly advise you. We are also able to advise you when life changes occur such as; retirement, relocation to another state, starting a business, marriage, divorce or the loss of a loved one.