Getting Started
We begin by listening to you ....taking time to understand your unique situation or that of a loved one.
Working with you, we review your financial information and then draft a personal financial plan that captures your goals, issues and concerns. Our thorough wealth management planning process reviews and assesses each phase of your life.
The result of our assessment is a comprehensive financial plan that will serve as a blue print for you and your family's future. A copy of your personal financial plan is given to you. This is not the end but just the beginning of our relationship. Over time we will monitor and update the plan to account for life's surprises.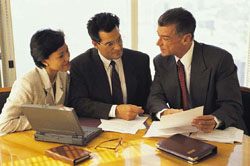 With your approval we then go to work helping you implement the decisions and recommendations necessary to pursue your life long goals.
We stay with you every step of the way and serve as your advisor and sounding board on a daily basis. Have a question just call us.
Our firm has formed strategic alliances with local law firms, real estate brokers, appraisers, senior housing providers and consultants, ...so if our team of professionals does not offer the service you need, we know someone that does.
If our Wealth and Life Management services sound like a good fit for you or a loved one, give us a call at 609-291-8363. We do not charge for our initial consultation...this provides an opportunity to explore the possibility of working together.